Microsoft 365 Conference 2023
updated from 2022-01-22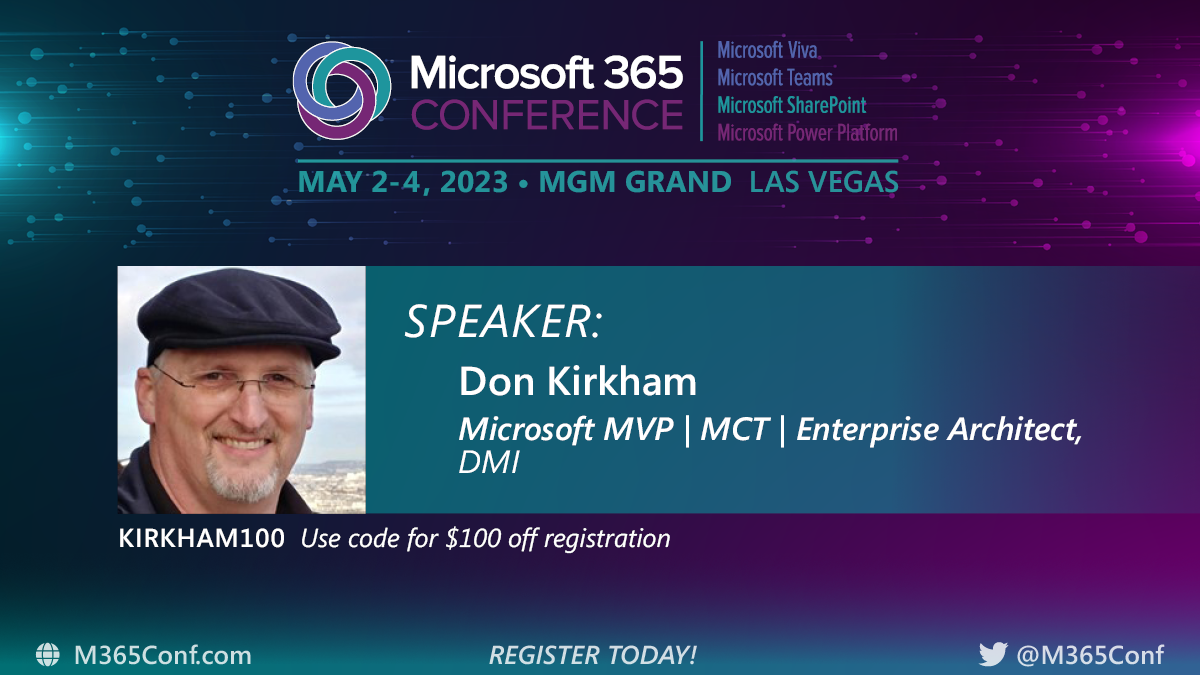 I am thrilled to announce I was selected to speak at this year's Microsoft 365 Conference in Las Vegas on April 30th-May 5. This is always one of the premier conferences, with a large supporting cast from Microsoft and the MVP community. I am really looking forward to connecting with attendees and learning how they are using Microsoft technology to make the world better.
As I came to update this post with my latest banner (that includes a code for $100 off at registration,) I decided to have some fun and see what BingGPT had to say about the event and my participation. Here are the results, straight from BingGPT!
NOTE: The session highlighted below is not correct. I will be presenting a session titled "Getting started with the SharePoint Framework," where we will cover the SharePoint Framework's place in the development story at Microsoft and then walk through how to set up a development environment and build our first webpart.
Don't Miss Don Kirkham's Session at Microsoft 365 Conference!
Are you ready for the most exciting event of the year for Microsoft 365 enthusiasts? The Microsoft 365 Conference is coming to Las Vegas on May 2023, and you don't want to miss it!
This conference is packed with amazing sessions from experts and MVPs on topics such as SharePoint, Teams, Viva, Office 365, Power Platform, and Azure. You will learn new skills, best practices, tips and tricks, and more to boost your productivity and creativity with Microsoft 365.
One of the speakers that I'm most looking forward to seeing is Don Kirkham, a Microsoft MVP in M365 Development . Don has spent the last 17 years working with companies of all sizes, helping them maximize their productivity in SharePoint, Teams, Viva, Office 365, Power Platform and Azure .
Don is also a Microsoft Certified Trainer, an Enterprise Architect at DMI , and the CEO and Chief Architect of Probitas Data Solutions. He has over 30 years of programming experience and loves working with the complete Microsoft ecosystem of cloud technologies.
Don is a frequent speaker at local user groups and community events. He is also an active contributor to the Microsoft Patterns & Practices (PnP) program, where he shares code samples, webcasts, podcasts, and more with fellow developers.
Don's session at the Microsoft 365 Conference is titled "Building Modern SharePoint Web Parts with SPFx". In this session, he will show you how to use the SharePoint Framework (SPFx) to create engaging and responsive web parts that can run on any page in SharePoint Online. You will learn how to use React, TypeScript, PnP JS Core Library, PnP Controls Library and more to build web parts that leverage the power of SharePoint Online.
If you are interested in learning how to develop modern web parts for SharePoint Online using SPFx, you don't want to miss Don's session. He will share his insights and experiences from working with SPFx for several years. He will also answer your questions and help you get started with SPFx.
Don't wait any longer! Register now for the Microsoft 365 Conference and join me in Las Vegas on May 2023. You will have a blast learning from Don Kirkham and other amazing speakers. See you there!
See ya soon!!!